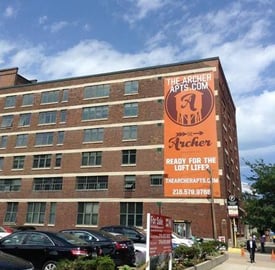 There are a variety of factors to consider when determining what is the best banner for your Cleveland business. Will you hang the banner outdoors or in? What materials should it be made of? How can you make it stand out from all of the other business banners consumers see on a daily basis? To help you get the most bang for your buck, what message should the banner promote? The experts at Epic Signs & Graphics can help walk you through the steps of creating a high impact banner. This blog entry should serve as a good primer.
Cut Vinyl versus Digital Print Banners
There are two main types of banners: digital print and cut vinyl. They both have their pros and cons. Digital print banners are created by using a wide format printer to put a message directly on custom vinyl banners. Cleveland businesses can benefit from these banners if they are looking to promote a consistent message inside or outside of their store.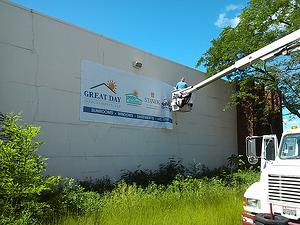 Cut vinyl is less expensive and less precise. It involves cutting vinyl lettering or images and adhering it to the vinyl banner. This is the perfect solution if you want to promote a message that changes occasionally, such as an annual event or apartments and offices for lease. It is easy for us to change out the information on the cut vinyl banners without replacing the whole thing.
Outdoor Banners Drive Business to Your Door
To drive consumers to your business, there are few signs quite as impactful as banners. You let clients know that you offer exactly what they are looking for when you hang a banner outside your storefront. For those companies that do not have a spot outside for hanging banners, consider talking to a local business owner to see if you could rent a spot on their building to hang a banner.
If used strategically, banners can be just as beneficial as television or radio advertisements at a fraction of the cost. Consequently, you are drawing new clients into your store in a hassle free and affordable way when you place banners where they can get the most attention. And, our large format printer easily handles any size of banner!
Banners Are Ideal for Sponsoring Events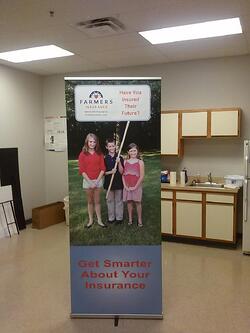 If your company sponsors concerts and local sporting events, like intramural softball or little league baseball, banners are the perfect way to announce your sponsorship. Through positive word of mouth, banners can give your business goodwill. However, you need to pick your demographic carefully. For example, if you own a business that serves only adults, such as a bar, then you do not want to advertise at little league events. But, concerts with an older crowd would be a good fit.
If you are certain you want a banner for your company or you just want to learn more, Epic Signs & Graphics can help you with a free consultation. We are a full service commercial sign company. We can even make sure you have the proper permitting for your banner. Contact us today for more information!