We've all heard the saying, "Dinner and a movie," and Solon, Ohio's Villa Toscano restaurant came to us to promote just that. Nestled between two hotels and directly in the line of sight of a movie theatre, Villa Toscano wanted an exterior business sign that would draw moviegoers over.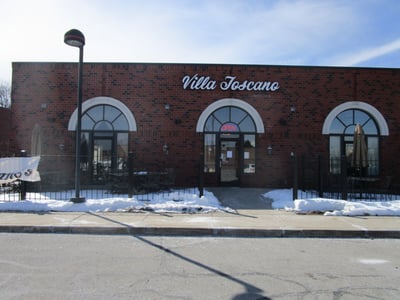 The objective: get movie patrons to see Villa Toscano as they're exiting the theatre.
Practice good design
When designing exterior business signs, especially those that will drive traffic into your place of business, you need to follow the rules of good design, all of which are meant to appeal to a general aesthetic.
Contemplate color
First, choose your color wisely. This is a tough aspect as color is often a huge part of branding, but colors usually go out of style. If you want to play it safe, go with a timeless classic like white. Villa Toscano chose illuminated channel letters in white to provide a simple, elegant look that stands out to moviegoers at night.
Use contrast to your advantage
Use contrast to make a statement and make your business pop! Internally illuminated, Villa Toscano's LED sign makes a statement against it's dark, brick exterior after dark.
Size accordingly
Finally, you want to make sure that your sign is the right size for its position. In an interview with Entrepreneur, Sapna Budev, Director of Strategic Initiatives for the International Sign Association suggests the following for calculating the appropriate sign size, "A good rule of thumb might be 10 feet per inch of letter height," Budev says. "So lettering with 10 inches of height may have the best impact at 100 feet distance."
Even in the daytime, Villa Toscano's sign makes an impact, don't you think?
Call us today to see how your Cleveland area business can benefit from a signage update or upgrade!