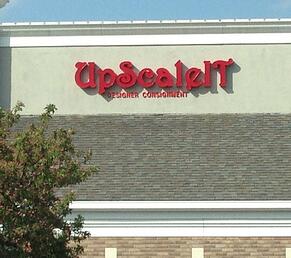 When you first move a retail store to a shopping center, it can be hard to grab the attention of passersby. These difficulties are compounded when you do not have the appropriate canopy sign. Solon OH's UpScaleIt designer consignment store recently rented out space in the Solon Square shopping district and knew they would need some great signage to show customers where they are. So, they decided to talk to the experts at Epic Signs & Graphics.
A Little about UpScaleIt
UpScaleIt is the new business venture of owner Alice Melsher. As a Solon resident, she wanted to bring designer clothes to her community at prices that did not break the bank. For fifteen years, she has had a passion for designer clothes at inexpensive prices and has been selling designer brands internationally as well as nationally. Her new consignment store has racks upon racks of designer labels for women of all sizes.
When a business that keeps our local women looking their best at a reasonable price came to us for help with signage at their new location, we were more than happy to help. Epic Signs & Graphics actually created two signs for Ms. Melsher. Both needed to be created in time for UpScaleIt's grand opening this spring.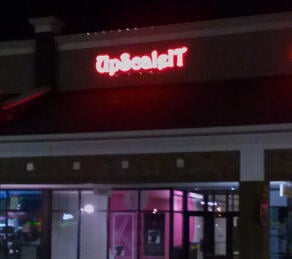 With the time crunch, we leapt into action. We first listened to her vision of what she wanted for the signs. We provided a quote that fit her budget, fabricated the signage, and installed both signs in time for her opening.
You will notice the first sign we created was channel lettering illuminated with LED lights. The business had a unique font it used for its name for branding purposes. To keep brand consistency, we were able to precisely replicate the font in intricate detail with the channel letters. The smaller letters, "Designer Consignment" are done in PVC. For underneath the canopy right outside the entrance, vinyl lettering was used, again capturing the script in perfect detail.
Channel Letter Signs for Your Business
Channel letter signs for Solon OH businesses are important if you want to be noticed in a shopping complex. And, if you are open after dark, these signs need to be illuminated. UpScaleIt went with the state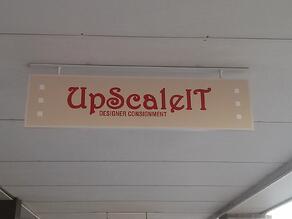 of the art LED lights because they are energy efficient and will last for many years to come. Channel letter signs in Solon OH look terrible when there are burnt out light bulbs. This is not an issue with LEDs, since they stay illuminated for more than ten years of nonstop use.
Epic Signs & Graphics is always taking advantage of the latest technology to produce signs for their clients. They are able to use software to perfectly replicate any logos, colors, or text your company may use in your marketing materials. We understand the importance of building brand recognition and believe signage is a perfect way to get your brand in front of as many eyes as possible. Contact us today for a free consultation.