You may have the best signage inside your business or organization but what about the exterior? Channel letter signs are an affordable solution to help you advertise and build your brand identity during the day and at night.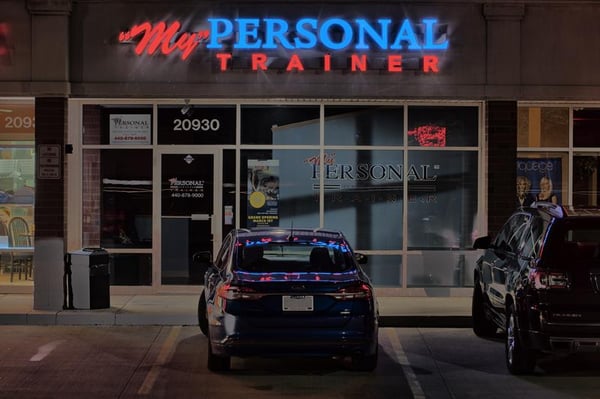 About Channel Letters

As you drive around Cuyahoga County, Ohio, you've probably seen many signs made out of channel letters. Consider some of your favorite restaurants—or the fast food restaurants your kids love. In the commercial sign industry, we call these illuminated channel letter signs.

Most channel letter signs are constructed using aluminum frames to prevent rust. Each of the letters are fabricated in a cabinet format using acrylic faces so the illumination shines through—even in daylight. They are built to hold up to all kinds of climates and will keep water out due to their durable, locking frames.

Channel letters can be single letters or a customized design and can be reverse lit or open face lit. Some prefer the reverse halo lit signs where LED lights and neon lights shine from behind the letters offering a shadow or "halo" effect.

These signs are made using energy-saving LED lights combined with neon lighting and once designed, they can be mounted directly to a building or placed on a "raceway" where each of the channel letters are mounted on the raceway and the wiring is routed through the raceway. You choice of installation depends on placement, budget and sign design.

Best Uses for Channel Letter Signs

Epic Signs & Graphics has installed channel letter signs for many businesses—even franchises in Cleveland, Parma, Parma Heights, Olmsted Falls, Middleburg Heights, Berea, Strongsville, Brookpark, Brooklyn, Old Brooklyn, Seven Hills, Independence, Lakewood, Fairview, Rocky River, and Bay Village, Ohio. Ideal uses for illuminated
channel letter signs are:
Restaurants, including franchise eateries

Businesses in shopping malls or strip malls

Hospitals, urgent care centers and medical buildings

Churches and nonprofits

Movie theaters and sports arenas

Auto dealerships and repair centers

Professional firms in standalone buildings

And many more!
Almost any sort of business will benefit from channel letter signs from a florist to a dentist to an auto body and paint service center.
Design and Installation
Epic Signs & Graphics is comprised of a team of sign design experts who excel at fabricating channel letters. We meet with every client at their location to implement the best plan and positioning for the sign. We can also walk you through the sign permitting process including providing needed drawings showing depth, width and height of the letters so your trip to planning and zoning is a breeze.
When you're ready to build your brand and want to add a high-impact visual signage solution to your business, let Epic Signs & Graphics be your first choice for channel letter signs.