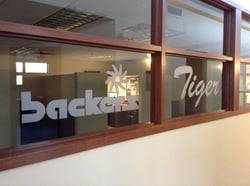 Just take a second and picture in your mind how beautiful the store windows in Northeast Ohio look after they've been gently kissed by old man winter and frosted with nature's paintbrush. What if we told you your storefront could capture that look year-round with custom etched glass vinyl courtesy of Epic Signs & Graphics? It's a surefire way to enhance any glass surface on the interior or exterior of your retail shop, building or business. However, these modifications to your office windows, doors or glass storefronts aren't just purely decorative. Frosted glass vinyl is a fantastic way to advertise and inform your clients.
For Your Retail Shop
All retail stores want to stand out. Some think stickers or decals are a good route. While it's true they're easily purchased online, installation is another story. All it takes is one air bubble to render your well-intentioned DIY marketing project a complete flop.
We highly recommend investing your hard-earned marketing dollars for window graphics on etched glass vinyl graphics for your retail store's glass surfaces. They're not only attractive and sure to garner you the attention you crave, these classic designs are also highly affordable!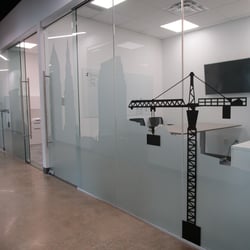 Beyond that, with a variety of Oracal® vinyl film options, Epic Signs & Graphics can match any design you throw at us. For example, the 8810 frosted series is available in a multitude of colors and our vinyl films are backed by big names including 3M and Avery which ensure your text, graphics and messages are placed precisely and directly on your shop windows. We can even change out and install your custom etched glass vinyl in a matter of minutes, instantly setting your boutique, retail store, grocery store, health food store or restaurant apart from the row of competition it's up against!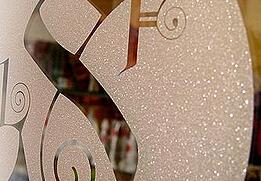 Vinyl films are also highly diverse and allow retailers to:
Install product silhouettes

Create timely seasonal displays

Etch your retail establishment's operating hours/days

Promote sales and huge discount days

Install an unlimited amount of graphics
We can even work up a custom design for your creative team after just one consultation!
For Your Business
You don't have to be one in a row of many to benefit from our graphics made from etched glass vinyl. After all, standalone establishments need to leave an impression too. With cars whizzing by at breakneck speeds imagine how much more likely your brand is to stand out if the exterior uses large, contrasting shapes against frosted or darker colored vinyl film.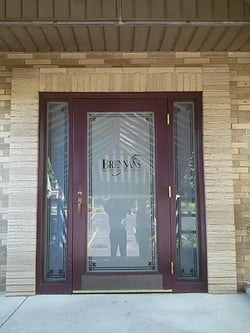 Want to add your logo to the lobby entrance or to interior entryways? We've got you covered! With an almost endless combination of colors we can take your design from concept to fruition. Even gold and silver are viable options when you choose our commerical sign company.
Some of our most popular etched glass vinyl solutions include:
Addresses and operating hours

Company names and logos

Logos, mottos and slogans

Seasonal graphics

Employee name lettering

Maps or target market areas

For use on mirrored walls

On frosted glass using a contrasting color of vinyl film

Designate entry and exits
With these versatile vinyl films, casting a professional appearance is a cinch regardless of whether you're a bank, auto dealership, museum or school.
More Design Solutions
Whether you come to us with a fully-fledged design or prefer us to work up an idea to present to your creative team, we can bring that wow factor you need to rid yourself of bare and bland windows once and for all.
Countless local businesses in the Northeast Ohio area have entrusted our highly trained professionals with the installation of an etched glass vinyl display. With one quick call you too can join our list of fully satisfied clients.
Remember, Epic Signs & Graphics is happy to install vinyl graphics for establishments and businesses in Cleveland, Parma Heights, Parma, Olmsted Falls, Middleburg Heights, Berea, Fairview Park, North Olmsted, Brookpark, Seven Hills, Independence, Lakewood, Fairview, Rocky River, Bay Village and Brooklyn and Old Brooklyn Ohio—we are your one-stop Northeast, Ohio commercial sign company!