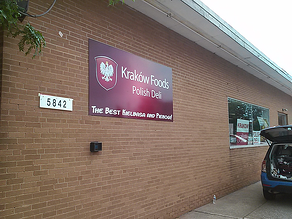 "I didn't even know you guys were here."
"I thought you went out of business."
"Are you open to the public?"
Do any of these sound familiar? These are just some of the things you might hear from adventurous consumers who somehow find their way into your store if it lacks the appropriate exterior building signage. If potential customers cannot tell where your business is located or that your storefront is even open to the public, then you can benefit from outdoor signage. Krakow Deli recognized their need for new signage and gave Epic Signs & Graphics a call.
A Little Information on Krakow Deli
You feel like you are instantly transported to the heart of Central Europe when you first cross the threshold into Krakow Deli. Named after the oldest city in Poland, Krakow Deli is a delightful specialty store that imports many of its high quality products from Europe to the satisfaction of their customers. They are located on Ridge Road in Parma's historic Polish Village. They specialize in candy, syrups, authentic Polish meats, cookies, soups, and much more.
When such a valued business in the Parma OH community wanted our help making it easier for consumers to find them, we jumped at the chance to do the job. They are a small business, so they were working on a tight budget, so we thought affordable bimetal sheets with 3M vinyl would do the trick.
We used two four foot by eight foot sheets of bimetal for the base of the sign and adhered the digitally printed vinyl to it. We were able to perfectly render the deli's colors and logos thanks to digital technology. Once the signs were complete, we installed them on the north and east sides of their building, so traffic on the two roads that pass by can clearly see where the Krakow Deli is.
Every Type of Exterior Building Sign for Your Company
If you do not have adequate exterior building signage, you could be missing out on a lot of business. Do not want a bimetal sign with vinyl covering? There are plenty of other options:
Window and Wall Vinyl – Some of the quickest advertising tools today are vinyl wall graphics and window lettering.
Monument Signs – Nothing establishes an image of solidarity and permanence for your enterprise like a monument sign.
LED Message Boards – For businesses that have constantly changing messages to get out to their customers, this is the ideal choice.
Channel Letters – Commonly formed from aluminum, channel letters help you stand out in crowded strip malls or just about anywhere.
Metal Plaques – Memorialize, dedicate, inform, educate, commemorate, or just add a touch of class to your building with metal plaques.
Dimensional Building Letters – Add an extra dimension to your signs and catch the attention of passersby with dimensional building letters.
Whatever your commercial signage needs may be, Epic Signs & Graphics is your one stop shop. Contact us today to find out how we can help your business get noticed.