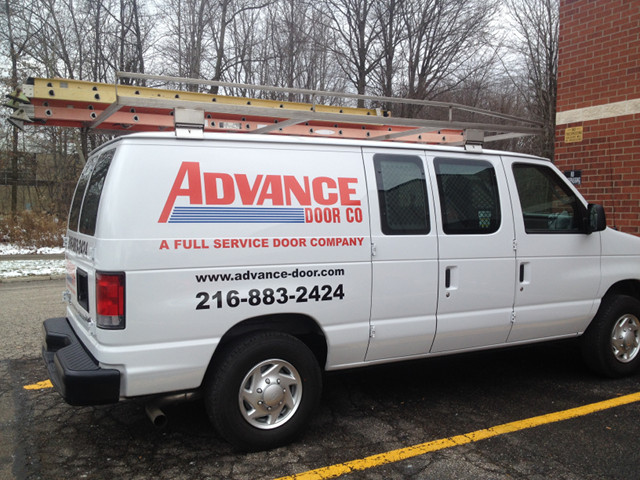 By what means are you currently managing your company's name and image? Everyone from mom and pop shops all the way up to Fortune 500 companies understand this is an essential part of any successful business, yet it's tough to truly manage every single aspect without the aid of well-trained professionals to help implement your vision.
If your 2016 marketing goals center around creating a memorable impression in the minds of your clients (or future clients) and getting a stranglehold on your image, perhaps you should join the running list of satisfied customers who have invested in vehicle graphics for their Cleveland, Oh business.
Most recently, Epic Signs & Graphics teamed up with commercial and residential garage door installation giant, Advance Door Company to do just that. After a brief consultation, they realized what an untapped marketing resource they had in their vehicle fleet.
Advertising 24/7
With help from our in-house design experts, we drafted a custom van graphics complete with vinyl lettering designed to showcase and promote their niche expertise.
Our first goal was to outfit their fleet of Ford E350 Cargo vans with all the essential company information to help each van properly advertise whether sitting in traffic or sitting parked in a lot. We started by affixing the logo and tagline to the rear doors. Its bright red typography helps it pop against the monochromatic black and white surroundings.
Next we collectively agreed on placement for the shop's phone number and website, ensuring interested parties know where to go for more information.
The graphics which occupy either side of the van's body boast similar information, along with a stared featurette alerting the public to Advance Door Company's 24-hour service promise. By fully covering all sides of the vehicle fleet with the simple design, even fellow motorists moving along the highway at breakneck speeds can fully glimpse and take in vital contact info.
On a good day, this can translate to over 70,000 views! And, considering these vinyl graphics keep advertising 24 hours a day, 7 days a week, the potential return on this nominal investment makes it a true no-brainer.
At Epic Signs & Graphics we are absolutely devoted to helping you gain a competitive advantage in the market place by providing effective visual communications to help you capture your intended market share.
Contact us today to see why we're the experts in vehicle vinyl lettering and graphics for Cuyahoga Heights, OH. It's easy to get a free quote...
Now, let's take a look at some images of Advance Door's Ford E350 van project from beginning to end...