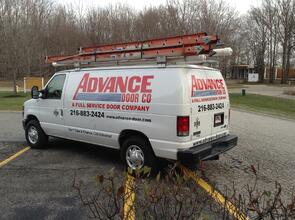 Choosing the right advertising strategy for your plumbing contractor business can be difficult. It is especially hard if you do not have a lot of money to spend. Whether you are a one man emergency service or a larger plumbing contractor, making the right decision about where to allocate your marketing funds is crucial.
Rarely does advertising with the traditional media outlets produce the kinds of results that the ad reps would like you to believe they would. If you have already tried radio and TV spots, newspaper inserts, or pay per click advertising and failed to get a huge response, you may need to look for a better way to get a return on your marketing investments.
The best answer for your business is vehicle graphics. Cleveland plumbing companies can benefit from mobile advertising. And with winter approaching quickly, now is the best time to update your work trucks before the seasonal spike in the need for plumbing services.
Brand Affordably and Effectively with Graphics and Wraps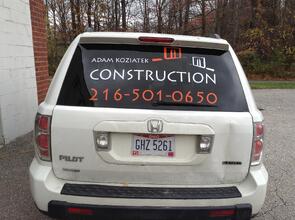 The most affordable way for you to market your plumber contractor company is with vehicle wraps and graphics. All day long, you use your work vans to get to commercial and residential clients, whether you are on your own with just a single truck or you have a plumbing franchise with a fleet of vehicles.
Your work trucks become moving billboards at all times of the day and night when they utilize contractor vehicle graphics. Cleveland plumbing vehicles are on the road or at the job site most of the time. These are the places where people will be exposed to your company thus making it the perfect way for you to brand.
With just one wrapped contractor van or truck, you can reach as many as 70,000 people every day according to a recent study. This number is far beyond anything a newspaper could hope to reach. Based on research done by the world renowned vinyl manufacturer 3M, a company would need to spend $130,000 in marketing dollars with other types of media to achieve the same effect as one $3,500 vehicle wrap.
Graphics Can Stand up to the Elements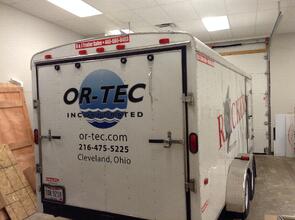 While your competitors are stuck using all white plumbing trucks, your vehicle graphics will help your business stand out for as long as five years or more. Plus, the graphics are 100 percent removable. In fact, the vehicle graphics actually protect the original manufacturer paint on your vehicle, so when it comes time to sell your truck, it will have a higher resale value.
95 percent of people remember van graphics. And, due to their affordability, vehicle wraps are just the best buy for your advertising dollars. The graphics even brand your company while your vehicles are parked.
To ensure that people will remember the name of your plumbing business when they want to weatherproof their home or when they have an emergency, get your vehicles wrapped now. Your fleet can be turned into a marketing machine with the help of Epic Signs & Graphics. We will get your trucks back on the road in no time with our quick installation process. Contact us for a free quote!