Before the COVID-19 pandemic,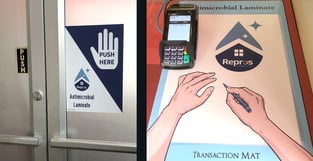 surface cleaning of high-touch areas was not high on the list of concerns for most businesses. Today, it's one of the foremost operational priorities. When you start analyzing the numerous surfaces that employees, customers and visitors touch each day, the task of keeping the workplace clean becomes overwhelming. The COVID-19 pandemic has highlighted the impact contagious illnesses not only have on the spread of disease, but also the impact on the cost of doing business including costs associated with the number of employee sick days. Finding the appropriate graphics, signs, decals and stickers to convey safety messaging during COVID is a key component to keeping your business environment safe and your work force healthy and productive, and will also provide visible reassurance to employees, customers and visitors.
There are a wide range of considerations when developing environmental safety measures in the workplace, such as identifying high-touch surfaces, the selection of proper cleaning agents, ensuring the use of masks in interior spaces, and complying with the recommended CDC guidelines. Another highly effective tool to add to your disease-control protocol is the use of antimicrobial COVID decals on high touch surfaces. It won't eliminate the need for regular cleanings, but is proven to be effective in suppressing the growth of bacteria and fungi on the laminate surfaces.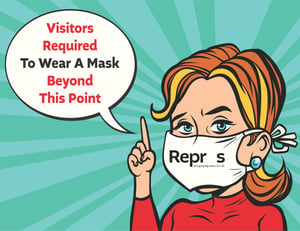 Hospitals know this and have been using antimicrobial products for years. The medical community requires wall coverings, fabrics, and other surfaces to contain antimicrobial properties to reduce exposure to bacteria and fungi. The Centers for Disease Control and Prevention (CDC) recently released its updated (Antibiotic Resistance Threats in the United States) indicating that antibiotic-resistant bacteria and fungi cause more than 2.8 million infections and 35,000 deaths in the US each year.
Repros has launched a new product line designed to apply special, antimicrobial layers to informative, COVID-19 decals to make common surfaces safer, reducing touch points to definable areas for easier, more frequent cleaning. Antimicrobial decals can be applied to push open doors, order counters, credit card machine areas, door handles, and many other common touch points.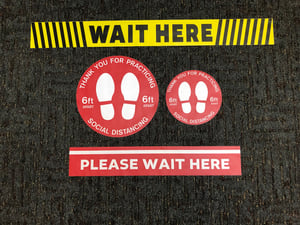 The (PermaGard Shield*) over-laminating film PGS128 is a high-performance pressure sensitive adhesive over laminating film engineered to inhibit growth of microbes and protect against abrasion, moisture and fading. PermaGard Shield consists of a 3.2 mil Matte clear vinyl film coated on one side with a clear pressure sensitive permanent adhesive and 1.2 mil clear PET liner.
Shield signage decals have been tested and is durable for 180 washes using window cleaner, disinfectant and bleach disinfectant. Antimicrobial decals have been tested against (CDC cleaning guidelines) and effectively reduced contaminants. The durability is 2 years outdoors. Remember to read directions on your cleaning agent to ensure that you are using the proper solution to kill viruses on these surfaces.
An antimicrobial solution, when combined with social distancing decals, mask order stickers and CDC educational prints are best practices for a safer environment. Click here for our COVID-19 order sheet or call today to discuss solutions using antimicrobial decals. Custom messaging and art is available.
* No public health claims are meant or implied by Mactac. This product does not protect user from disease causing bacteria, viruses, germs or other disease-causing organisms.