Installing lettering, logo's and decals is a very effective way of marketing, advertising and branding a business. It is also a more economical way to get your name around town compared to a complete wrap project. Epic Signs & Graphics uses high-quality, heavy-duty adhesive backed vinyl from well-known vinyl film manufacturers such as 3M, Oracal and Avery. Sample our work.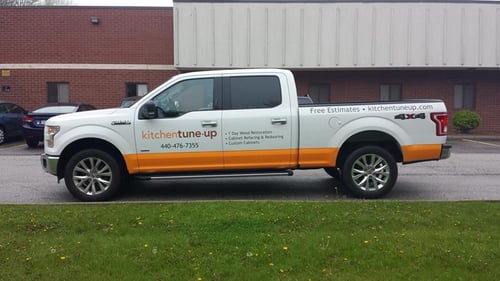 Advantages:
Lettering your van or applying decals, logo's and letters to work trailers whether you have one or a fleet helps in the many ways:
Turn's your vehicles into a 24/7 moving billboard, even when parked at homes or businesses of your customers.

Will brand your business because lettering and graphics are seen repeatedly, they are noticed and remembered.

Allows your company to stand out from the crowd of all-bland vehicles void of any advertising.

Are a much more affordable form of advertising than other local options such as newspapers, magazines, radio or television.

Vinyl truck lettering and logo's are a form of "evergreen" advertising, meaning your vehicles continually deliver your message day in and day out.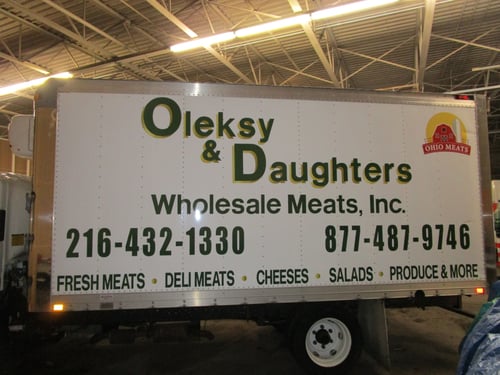 Businesses That Can Benefit:
Almost every type of business can benefit from installing vinyl lettering and decals including:
Contractors, such as plumbers, HVAC techs, electricians, handy man, window washers, power washers and general contractors.

Automobile franchises or independent auto dealerships, especially for parts delivery trucks or courtesy shuttles.

Crosstown delivery and pick-up service companies

Florists security services, limousine service or pizza delivery.

Any company with a fleet of vehicles.

Franchised businesses including restaurants, auto collision centers, carpet cleaning or home and commercial cleaning services.
If your corporate vehicles are constantly out on the road, vinyl truck, car, van, or SUV lettering turns each one of your vehicles into a 24/7 mobile advertising medium for your business.And don't forget, we can also apply the same theme to trailers, buses, people movers and even golf carts, Mobile advertising works constantly while you concentrate on other projects.
Our Process:
At Epic Signs & Graphics we work with our customers from the idea stage to the installation stage. Our process includes:
Initial consultation to discuss your corporate ideals, vision and mission.

Survey vehicle for size, placement and condition of surface.

Survey art work for reproduction and application to vehicle.

Create design based on consultation including size, placement and optional graphics such as your logo or a QR (quick response) code for smartphone scanners.

Quoting to help you stay within your budget.

Full production and installation once you approve the design.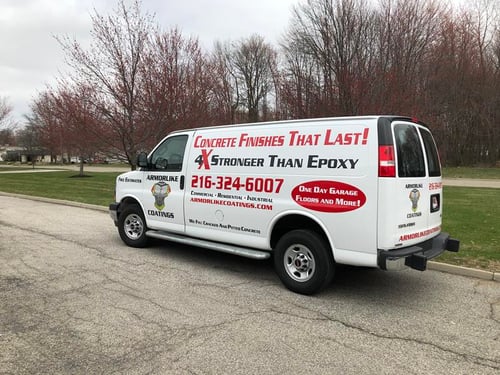 Reasons to Consider Vehicle Vinyl Lettering
Why should a business consider vinyl truck lettering. We tell potential and returning clients there are a multitude of reasons. Perhaps you want to stand out from your competitors? Maybe you have a new enterprise and need a quick way to get noticed? Do you need a long-term advertising solution that costs only pennies per visual impression? Have you tapped the areas around your business location and want to extend your consumer reach?

Above all, most of our clients come to us after they've ordered "cookie-cutter" letters online and attempted to install them on their own only to run into problems—our designers and installers are experts at what they do.
Areas We Serve:
Epic Signs & Graphics is proud to serve many areas for vinyl truck logo and lettering within Cuyahoga County and North East, Ohio including:
Cleveland

Parma

Parma Heights

Middleburg Heights

Berea

Olmsted Falls

Strongsville

Brookpark

Lakewood

Westlake

Fairview

Rocky River

Bay Village

Brooklyn

Old Brooklyn

Seven Hills

Independence
Let Epic Signs & Graphics turn your company vehicle or fleet into eye-grabbing visual machines with vinyl truck lettering and logos. Use the above Contact Us button to get a quote and review how we can help today!