The usual response I get when I throw some sign industry jargon around...how about we install a post and panel sign for you? Huh,,,,yeah....what is it? Simple, it is a sign that has posts and a panel! Once they see the picture it becomes obvious, huh yeah....a post and panel sign.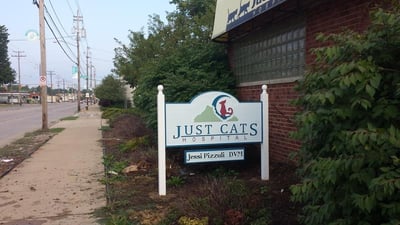 The post and panel sign has a certain charm to them when made with a routed panel such is the case with the sign we installed for Just Cats Veterinary in South Euclid, Ohio. The owner wanted to update the sign in front of her business and called Epic Signs & Graphics for help. After we surveyed the property for possible ideas, and listened to the clients business challenges of getting noticed by customers, we suggested a post and panel sign.
This sign was made with two 4" x 4" cedar wood square posts set into the ground and cemented into place. It was painted before install and the finials were added to the top. There was a groove routed on each post so that the tabs of the panel would fit into place upon assembly and adhered with adhesive and screws.
The panel for this project was routed and sand blasted out of hard density urethane (HDU). The process starts with a sheet of 1" HDU and it is either routed or sand blasted on the surface to remove any of the non-image area to a depth of 1/4" or so. The surface areas that are left behind were painted based on the art work provided. The result is a beautiful dimensional sign painted with vibrant colors that stand out from the road way.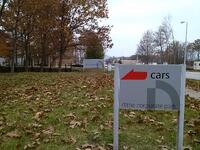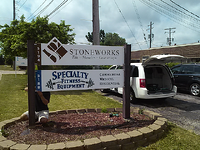 Admittedly, the routed panel option is not the lowest price that can be chosen so there is another option to meet budget requirements. We can print full color vinyl and laminate it on to a flat 1/8" or 1/4" panel and mount on to posts. There are also options to use aluminum posts that have slide mounts for the panel to insert. The posts are made with extruded aluminum and can have various styles of finials added to the tops.
The fine looking post and panel type sign can be used in many types of exterior applications such as community development identification, community ornamental signs, directional sign systems, business signs, and also construction sites.
If you are in need of ideas for signs for your business or community, hit the link below to request a no obligation consultation and we would be happy to guide you into a sign that is appropriate for your business or organization.