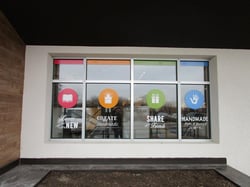 When it comes to vinyl lettering for your business, there are two main types: wall and window. Though they can both serve a wide array of interchangeable uses, in general, window vinyl lettering is used for advertisements intended to attract people to come inside your business. Wall vinyl lettering provides information and entices customers to make purchases once they are already inside the store. Epic Signs & Graphics specializes in providing both window and wall vinyl lettering for Cleveland.
Primary Uses for Vinyl Lettering
Thanks to the many types of vinyl and adhesives, vinyl letters can be applied to just about any surface and many types can be removed and reused. Once we meet with you to determine what you would like to use your window and wall lettering for, we will know which vinyl will work best for you. Below are some of the ways our clients use vinyl lettering:
QR Codes – QR (quick response) codes have become all the rage with the widespread use of smartphones. Epic Signs & Graphics can create a QR code you can place in your window or on a wall, so passersby can scan it and be directed to your site, receive electronic discount codes, join your loyalty program, or sign up for your newsletter.
Product and Service List – Is there a hot ticket item or service that you really want to promote? Or, perhaps you just want to make sure shoppers or those who walk by your store know what it is you sell? If so, vinyl lettering is an inexpensive way to do this.
Contractors License or Other Licenses – Many businesses use vinyl lettering (usually wall lettering) to display their license number and other information. This lets your customers know that you are a trustworthy provider.
Sales –Do you need to get rid of older or seasonal items to make room for the new? Do you have a big sales event coming up? Both wall and window vinyl lettering will help get the message out.
Business Hours – How are customers going to be able to give you their business if they do not know when you are open? Window vinyl lettering on the entrance to your store is the best way to do this.
Brand Reinforcement – One excellent method for reinforcing your brand awareness is with vinyl lettering and graphics. We can create a graphic that perfectly matches your company's logo to increase your recognition.
Solutions for Your Lettering Needs
Some of the quickest marketing tools currently available are vinyl wall and window graphics and lettering. Epic Signs & Graphics recognizes this. That is why we have an array of different types of vinyl. We can create metallic, reflective, or just about any color of lettering. For service providers and stores, window and wall vinyl is the ideal advertising medium, since they are simple to install, use, and reuse.
Epic Signs & Graphics is the company to call when you are ready to work with a top quality commercial sign company that places the highest values on material quality and outstanding craftsmanship and is dedicate to superior customer service.