It's difficult to believe fall is here and the holidays are around the corner.
This is a great time for your business, community organization or non-profit to bond with the Cleveland community whether it's about public programs or your business' offerings. The great news is it doesn't take a huge outlay of cash or time to make a positive impact.
All you need is an exterior digital sign.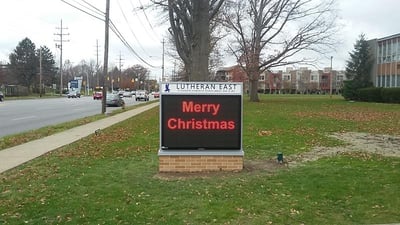 A few years ago, digital signs were strictly for large businesses but that's all changed. Now smart organizations in Cleveland, Parma, Brooklyn, Rocky River and throughout the area are making the move to digital signage. And as the exterior signs and building signs have grown in popularity, their costs have decreased dramatically.
Liken digital signs to cell phones. Once they were strictly for the well moneyed. Today almost anyone who wants a cell phone can afford a great looking, sophisticated phone.
Digital signage is used in a host of environments including what RavePubs calls "gamificaiton," such as in-store leader boards or even interactive games and the large display marketing signs you see in New York and other major cities.
But just because major players such as Apple and Ford Motor Co., use such signs doesn't mean there aren't ones that will work for your Cleveland-area business. Think of some of the digital signs you've seen at banks, churches and even community centers. The simple "Happy Holidays" greeting, simple notification of an event or shout outs to various members of the community are easy and well-received ways to show the public there are caring people inside your organization.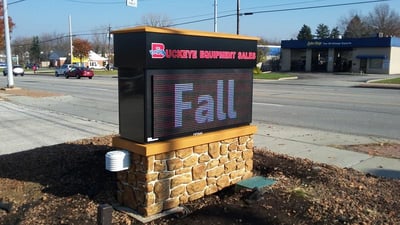 Sure you can use more rudimentary tools ranging from poster boards to vinyl signs but consider how difficult it is to read those as you drive through town. And now that the world has seemingly gone digital it only makes sense your signage should too. Otherwise you run the risk of conveying your business is dated or behind the times.
Whether you want to wish people Happy Holidays, alert them to sales or other events or highlight a community event, you'll find a digital sign conveys the message in a modern, cost-effective way that doesn't eat up staff time.
Call us today to discover how to put digital signs to work for you.