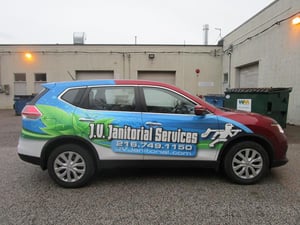 Do you have a fleet of company vehicles? Or, perhaps you just have one company truck? Maybe you want to give your personal vehicle some pizzazz? At Epic Signs & Graphics customers are always asking us "How much do vehicle wraps cost?" This, of course, depends upon a variety of factors. To be open about our pricing, we list the main aspects of a wrap job that determine the cost.
Materials
The main product of course is the vinyl and is the basis of the wrap. Epic Signs & Graphics uses premium vinyl film from top manufacturers, such as Avery and 3M. Each has it's own characteristic or performance style. For example one brand has an adhesive that is more aggressive while another has more flexibility get around curves. Either product is fine, but it is a consideration for understanding the type of vehicle that needs to get wrapped.
Size Vs Curves
The amount of material to wrap a box truck may be more than to wrap a ta Mini Cooper. But there is a big difference in the time it will take wrap each vehicle. The box truck sides for example generally consist of plat panel and in most cases rivets to deal with. But the Mini cooper will have hardware to remove, many more curves, thus taking more time to get a professional finish.
Graphics
A common misconception is that graphic design is free with a vehicle wrap. There is a cost in generating a design that will get your business noticed. We have experienced and creative designs with a focus on helping target your message. We use professional design software and have access to high resolution images. Using poor images will hurt the look of the completed vehicle wrap and is a critical component to a clean eye popping wrap. It is like the old adage: you get what you pay for. Your top quality vehicle wrap with stunning designs will pay for itself with the amount of sales you attract to your business.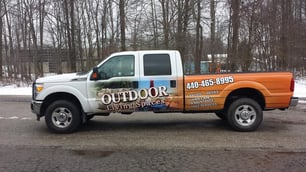 Installation
Having trained staff with experience is another critical factor in the success of a high quality wrap. Continuous training is our recipe for keeping installers up to speed with the latest industry techniques. There is also no better teacher than experience. The design, vinyl and the vehicle body style all come together and the installer can make or break the difference between a good and bad wrap.
Fleet Discounts
When we are dealing with a fleet of vehicles versus a one off job, we can generally give a discount. One factor that determines what the amount of discount is if the vehicles are different models or the same. Some fleets are made up of cars that are all the same. This would allow us to use the same artwork and design, if we need to re-arrange graphics then design adjustments will be involved which is designers time. Having said that, our production facility allows us to print multiple wraps and install them.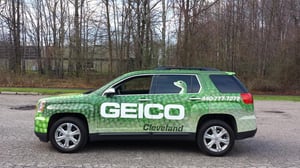 So, as you can see, the question "How much do vehicle wraps cost?" does not have a one size fits all answer. The best way to find out for sure is to schedule a free consultation and estimate with Epic Signs & Graphics today.